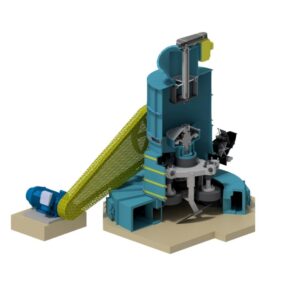 As discussed in our first blog of this series, Bradley Pulverizer is the only manufacturer of airswept roller mills designed with an overhead integral gearbox. This design allows for a spectrum of performance and cost saving benefits over other under-driven mills.
Performance Benefits:
Less Vibration: The positioning of the integral gearbox above the grinding chamber adds 30% extra live mass to the mill increasing stability. A reduction in vibration also translates to less gearbox maintenance.
Improved Efficiency: The spiral-bevel gears used in the Bradley gearbox, similar/identical to the gears used in helicopters, operate with higher efficiency than standard gearboxes used in under-driven mill. This means that almost 10% more of the absorbed power is available for grinding.
Reduced Gear Wear: Higher efficiency means the Bradley mill gearbox oil does not need to be cooled, even when the mill is used with a dryer. This saves on installation and running costs.
Optimization of Mill Speed with No Loss of Efficiency: The use of a V-belt drive allows full power of the motor at any speed, which is not possible with a direct drive and inverter which restricts mill capacity.
Maximize mill Output: The V-belt drive also allows for mill speed to be increased so m output can be amplified without loss of efficiency.
read more